Maincast | Sidecast

Maincast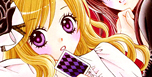 Tsubasa Uehara
Tsubasa is Arisa's older twin sister and lives with her dad. She's 15 years old and her hobbies are visiting cake stores.
She looks like a cute girl, but she has a bold sense of justice and beats up bad boys!
In her school she's known as the "Demon Princess of Higashi Middle School", because she often gets into fights.
Well, that's why her friends are mostly boys, even though she really wants girls as friends and act cute with them.
Tsubasa is very proud and even a little envious of her little sister Arisa, because Arisa is a very gentle girl who's liked by everyone.
Since the divorce of their parents, Tsubasa secretly writes letters to Arisa. After Arisa tries to commit suicide after a mysterious message, Tsubasa does her best to solve the mystery, that's why she prentends to be Arisa and goes to her school.
Normally, she looks exactly like Arisa, but she dyed her hair and her eyebrows are shorter. Because of that, she uses a wig and draw some more eyebrows to be Arisa.
Her best friend is Takeru. He helps her to solve the mystery about the King.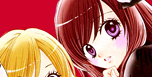 Arisa Sonoda
Arisa is the younger sister of the twins and she lives with her mom. She's a very kind girl, liked by everyone and is good at cooking.
Arisa has a great personality and is the class president. She was able to get the truant Manabe-kun back to school again and she even has a pretty boyfriend, Midori Yamashita.
Her best friend is Mariko Takagi, who likes Arisa alot.
Her live seems to be perfect, that's why it's even harder to understand that she jumped out of a window, with the intention to kill herself in front of Tsubasa.
Arisa was the first king, but someone took over her role, and began doing bad things as "the king".

The King
The King is an unknown person, probably one of Arisa's classmates. In Class 2B he's admired like a god. Everyone who start to doubt the king gets a punishment...